Salt Chlorinators are designed to assist with the precise levels of sanitiser to keep your pool water clean and healthy. Oxygem Pool Care sells and installs a range of salt chlorinators at competitive prices including products shown below. Ring 0402 386 280 to discuss your pool needs.
AstralPool VX Series
VX6, VX7, VX9,VX11,VX13 The VX series salt chlorinator continuously generates the precise level of chlorine required into your pool. With its self cleaning ability and time clock, the VX is perfect for any pool and/or spa. Pump protection if there is no water flow.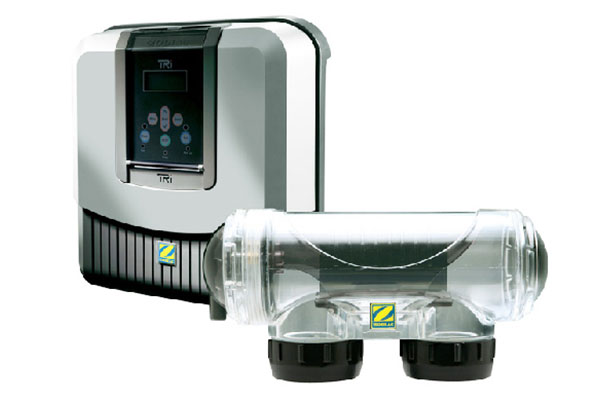 Zodiac TRI
The Zodiac Tri Series was created to give peace of mind for swimming pool owners because it provides a combination of automation and intelligence usually only found in commercial grade pool equipment.
TRi Water Care System Features
• Generator cell provides optimal performance, with better chlorination.
• Easy-to-use one touch control unit.
• Upgradeable system provides flexibility to suit your needs and your budget.
• Reverse polarity cell prevents calcium build up and keeps maintenance to an absolute minimum.
• Seamless connection to Zodiac Aqualink control systems for a fully automated pool experience.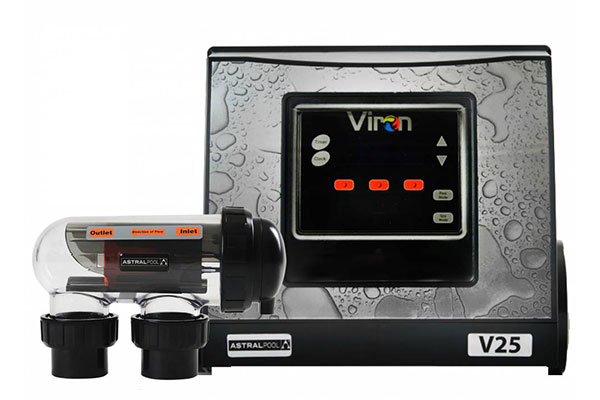 Viron Salt Chlorinator
AstralPool's Viron Salt Chlorinator brings a new benchmark in efficiency, control, convenience and reliability.
The Viron Salt Chlorinator's advanced electronic power supply provides pure DC power to maximise the efficiency of the electrodes to product the highest level of chlorine for the lowest power consumption, reducing your energy costs and keeping your pool safe and healthy.
Manual dosing with liquid or granular chlorine can be haphazard. Over-dosing can cause eye irritation, itchy skin and a strong chlorine odour. The Viron Salt Chlorinator continually generated chlorine at the level you require allowing you to set and forget.
With easy to use touch pad, intelligent self cleaning of the cell, pool or spa dosing control and also a filter backwash timer you can't by pas the Viron Salt Chlorinator to make your pool healthy and enjoyable.